The Original Cleveland Blues team began in 1878 as an amatuer club.  In 1879 they became part of the National League of Professional Baseball Clubs.  The team played at Kennard Street Park (also know as National League Park), which is currently East 46th Street & Cedar Ave.  (mapquest link).  During thier 6 seasons in the NL, they never finished avove 3rd place.  However, they did have some noteable players on the team, such as Hall of Famer Ned Hanlon who played for the Blues in 1880.  Hugh "One Arm" Dailey threw a no hitter for the Blues on September 13, 1883.  Dailey was nick-named "one arm" because he had only one arm.  Even with this setback, he recorded 19 strikeouts in one game (July 7, 1884), a major league record for over 100 years  until 1986 when Roger Clemens broke the record by recording 20 strikeouts in a game.  In recognition of this great player, September 13th is now "Cleveland Blues Day".
During the 1880 Season, the first ever pirfect game was pitched against the Blues by J. Lee Richmond of Geneva, Ohio, while playing for the Worchester Club.
The club folded after the 1884 season after finishing in 7th place.  They sold all of thier players to the Brooklyn Trolley Dodgers, which later became the modern day L.A. Dodgers!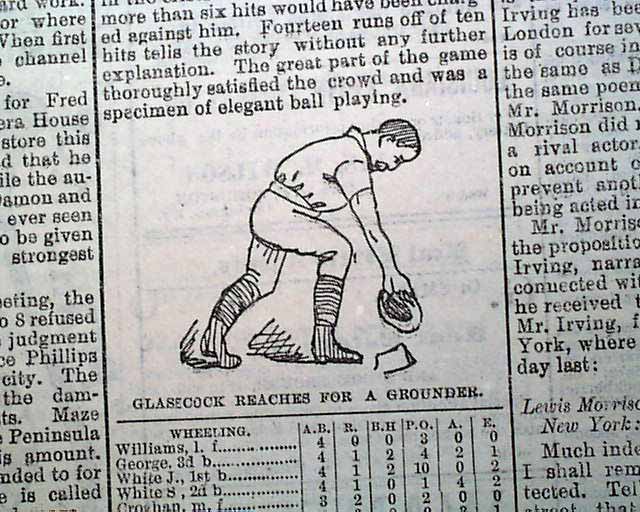 1886 - Drawing of SS "Pebbly Jack" Glasscock from Wheeling Daily Intelligencer Newspaper
Blues Articles of Incorporation
Ned Hanlon
1879 Cleveland Blues Base Ball Club 
"Good ball-players make good citizens."
-Chester A. Arthur - upon greeting the Cleveland Blues, April 3, 1883.
Blues Official Fan Club: