According to Beadle's Dime Base Ball Player, published in 1860,  bats were to be between thirty and forty inches and weighing about 48 ounces.  Bats were usually made of ash, but could be made of maple, hickory and pine.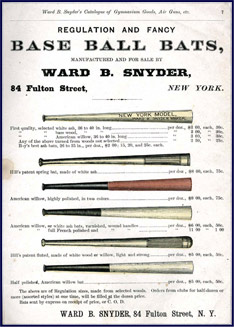 Ward's Bats, circa 1875
Making a home-made vintage bat.
Bats didn't become limited until 1882, when 42" was the maximum length a legal bat could be. 
Today, vintage bats are made by a few companies, including The Phoenix Bat Co. which made the first Cleveland Blues bat, the "Tomahawk".  Many teams make thier own bats, if they have the luxury of a ballist who owns a lathe and woodworking skills.